When the war-drums began to beat, Camrose enthusiastically committed itself to the cause of Empire. Within a month of the outbreak of hostilities, the first Camrose men were beginning to enlist, carried on a wave of patriotic sentiment generated by strong feelings of attachment to imperial Britain and an enthusiastic news media. By the middle of 1916, more than 430 men from the Camrose district had joined the Canadian army, and a not-insignificant number would also travel to England to enlist in the British armed forces. Of these, at least thirty-five from Camrose alone would fall in battle in Europe, and one of the first was Sergeant Harry Connor.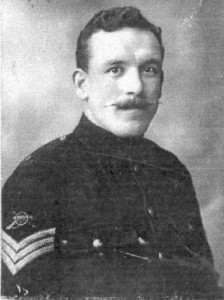 Born in Camrose in 1883, the then-thirty-two-year-old Connor had been a partner in the Connor Bros. Bakery, a prominent advertiser in the Camrose Canadian, and was one of the first Camrose men to enlist, signing his attestation papers on August 20, 1914.1 Going into action with the prestigious Princess Patricia's Canadian Light Infantry for the first time just after the beginning of 1915, Connor was rapidly promoted from private to corporal and finally to color-sergeant, and commanded a machine gun section, while his pet bull terrier was acclaimed the PPCLI regimental mascot.2
Connor's letters home, addressed to Camrose Canadian publisher George P. Smith and reproduced in the pages of the Canadian, provide a sober contrast to the high-flung rhetoric of patriotic duty to the Empire that otherwise characterized much of the Canadian's coverage of the war. Connor speaks matter-of-factly of being buried alive by shellfire in a collapsed cellar when taking shelter from German artillery, seeing the bodies of comrades literally fly apart on impact of what he suspects to be exploding sniper's bullets and lying almost unmoving in filthy, freezing water for days at a time to avoid giving away the position of his machine guns, forever being held back in case of an attack.3 His correspondence reveals both a grim determination to prevail over enemy and faulty equipment alike (in one instance noting that a neighboring unit possessed only one functioning example of the notoriously fragile Ross rifle) and a persistent frustration with the misconceptions that well-meaning civilians had concerning conditions for "the boys" at the front. In response to the question of whether Connor and his fellows are receiving hot meals, the former baker acidly suggests the following:
"If you dug a hole in a wheat field 6 feet long, 1 ½ feet wide and 4 feet deep, in the rainy season in Alberta, half fill it with ice cold water, get into it and stay there for 24 hours and each time your head comes over the top someone tries to blow a hole in it to air your brains, you may understand how many hot meals we get, or possibly you can see us getting nothing at all if we don't carry it in ourselves." 4
Despite this biting attitude towards inquiries after his general state of comfort, and a correspondingly frank and unvarnished appraisal of the muddy hell into which he had been thrust, Connor remained, in a sense, optimistic to the end of his life, writing Smith on February 17, 1915 to dispel rumors that the Patricias had been involved in "Brilliant Bayonet Charges", to use the Canadian's own headlines, but nonetheless adding that "one of these days you'll probably hear of a charge and I hope that we are in it".5 What kept Connor going amid the mud, snipers, shellfire, exposed, decaying corpses and other visible expressions of the presence of death was a profound faith in the rightness of the Allied cause. Writing to Smith, Connor confessed, that "although this is not exactly agreeable work I am easier in mind than I was taking it easy in town and letting someone else do the hard work or let the militarism of one great power win without doing my little bit".6 Less than a month later, he would be dead.